Asset Management is an Advanced Smartphone Application designed to Help you to Maintain all type of Devices for your Organization.
Background
Asset Management is an advanced smartphone application designed to lend a hand in maintaining all type of devices such as computers, printers, copiers, fax machines, mobiles for your organization. It is designed for admin to track a device's performance during the assignment of devices. It provides an effective mechanism for allocation devices among departments and users. It leaves no possibility that the data if lost cannot be recovered.
---
The Problem
Accurate tracking of assets of an organization is as important as sourcing these assets. In the case of disorder assets, owners want to know who was using their assets and for what purposes. For security and privacy reasons, every owner requires a distributed maintenance record of assets and their assignments instead depending on a central authority.
---
The Solution
The solution delivered by Seasia involves a robust system with that clutches all the information of assets that include:
• The reach of the asset

• Location of the assets

• The users that are using the assets

• For how long they'll be held, with live updates.
In this System, protocols are needed to validate the entry; it removes the risk of duplicate entry or fraud.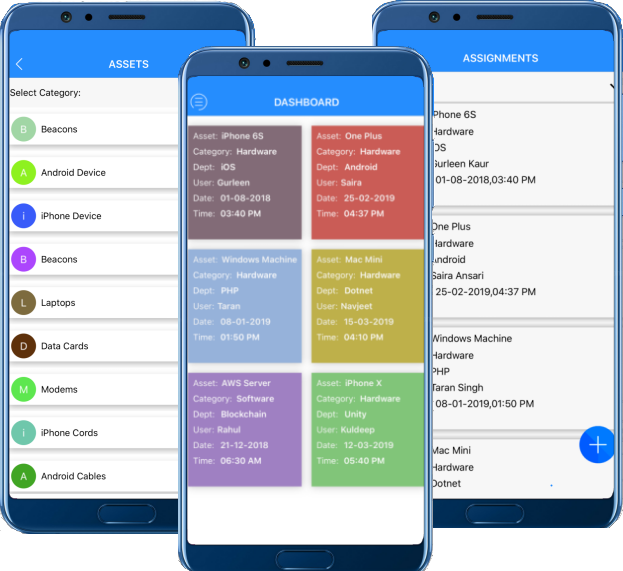 1
Features
The advanced system offers you precise information about the devices within a couple of seconds. Here is the list of features that you get with Asset Management.
• Make tracking infinitely easier. It provides an effective way to provide permissions to users.

• Store every piece of information about your asset—whether it's a laptop or mobile model number, IMEI no, hardware type, and color within the app.

• Addition and updating assets can be done in a fraction of seconds from anywhere anytime. Information stored in distributed format to ensures its availability.

• One can stay updated about the users to whom the assets are assigned to, where they are, and for how long they'll be held, with live updates.
2
Customize
Add new features like add departments, users, customize asset reports based on department, category, users, date, and date range.
• The app is built to place orders for the assets based on an analysis for your company.

• One can customize the allocation of devices based on departments and users for easy tracking.

• This allows verification without having to be dependent on third-parties.

• It uses protected cryptography to secure the asset's data.
• So there is no possibility that the lost data cannot be recovered.
Client Comments
"Seasia Infotech is an absolute delight to work with. They are flexible and talented workers. Not once have I doubted their capabilities during the project development, will surely come for more work in future."
Dave Bergomi
<
Tools and Technologies
iOS

IDE Xcode 10.1
Programming Language Swift 4, Objective-C
SDK iOS SDK
Database SQLite
Tools Instruments, Simulator, Application Uploader
&nbsp

Android

IDE Android Studio (version 3.2.1)
Programming Language Core-Java, XML
SDK Android SDK
&nbsp

Database SQLite

Tools SQLite
&nbsp

Backend & Web Services

Development Framework: Hyperledger fabric 1.3
Programming Language: Blockchain, NodeJS
Database CouchDB, levelDB
Certificate Authority: Fabric CA
Nodes : 3 Peers, 2 orderers, 1 Fabric CA, 1channel
Orderer type: Kafka
Results
Our experts were able to successfully deliver an efficient application with a user-friendly interface that could track the assets. It presents a decentralized system so there is no possibility that eventually ensures adequate recovery of lost data. It allows proper verification of users by ending the dependency on third-parties.