Based on the proven success of Agile as a software development methodology, I would like to mention here that Agile has provided a comprehensive, customizable, solution to the key improvement needs in the critical performance areas viz. made-to-custom-needs, strategic planning, Go-to-market success, high efficiency and successful client engagement.
When we continuously adapt our 'innovation and research work' and thrive relentlessly on the same on an ongoing basis, we have in a way adapted agile innovation. The most successful of innovators are those who push the competitors out by reshaping the market and hence coercing it to 'adapt' the innovation. At the start of things this sounds unachievable; hence the agile, incremental approach becomes the necessity of the times to 'lead the completion'.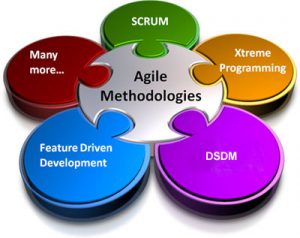 There is almost no doubt in saying that Agile is more suited for innovative organizations than conventional waterfall methods are. However, is agility the natural way to innovation? In case you take a gander at the principles behind the Agile Manifesto, the first one says: "Our highest priority is to fulfill the client's need through the early and regular delivery of valuable and useful software." This is tied in with delivering something some client needs, wants and will pay for. This is all about finding and satisfying requirements. This isn't about developing cool things nobody else has ever wanted before.
It's right that agile uses a lot of procedures for innovativeness, for example, face-to-face communication, iterative work, and quick feedback, to name only the most vital ones. Also, it promotes an idea that software development is an act of development and invention, as opposed to an act of production, thus making it an innovative act. But, it also puts the IT development under the nearby control of the business, with backlogs, planning workshops, prioritization, item owners, and so on.
The agile strategy has helped create & implement the best ideas, develop them with the highest efficiency, work together more profitably to achieve breakthroughs. When we talk about innovation, it does not simply imply that copying the strategies adopted by other successful organizations can produce the desired results. Collaboration and implementation with an approach to suit the style and working of our own organization can only bring success. So innovation needs to be nurtured, properly planned for execution and executed step-by-step, taking into consideration alterations/ customizations needed in the way of its implementation. Hence 'agile innovation' accommodates and takes in its stride the practical, actionable changes or customizations needed for achieving a greater competitive advantage.
The functional and technical landscape is changing rapidly, which affects the overall quality of the mobile application. In order to enhance the quality, agile software development offers easy systems and techniques to maintain a focus on the fast delivery by prioritizing the most important features.
Innovation is the key
Key Insights:
• Innovation efforts can help accelerate to achieve even greater competitive advantage
• An organization needs to develop a culture of innovation, greater engagement (both external & within) and rich collaboration
• Implement your own customized & unique plans to enhance collaborative innovation
• Develop key leadership goals and work in-line towards achieving them through agile innovation
• Integrate key agility principles into management planning decisions for continuous improvement
• Explore novel approaches to initiate large-scale innovation while implementing agility
• Leverage the best technology/ tools to accelerate innovation, minimize risk and promote participation across the organization
• The agile approach is all about working with speed, efficiency and quality, and ultimately reaching out successful in the market, addressing all impediments on the way, and stealthily moving ahead of the competition.
• In the long run, with agile innovation, the organization moves ahead of the disruptions, with less expenditure in mitigating risks on the way and becoming 'the star of innovation'. Hence, it is in fact a revolutionary approach to success in innovation, because taking a big leap forward in innovation is possible only if you have speed all along.
It is clearly evident that for all businesses large or small, to thrive means to innovate or else die. As per Earnest & Young, 53% companies say that they cannot rely purely on internal innovation and 66% say that collaboration is the key to achieving strategic goals for innovation, and the failure to collaborate at the right time is a bigger disadvantage. Hence – set a vision, clearly set the goals to achieve the same, collaborate and innovate with agile. That's the success mantra!