We may be just a few weeks away from getting our first look at new Apple iPad Pro 2. Every Product that apple launch it bring a completely new innovation which will drive its future product. This being its Anniversary year, apple would bring something special to its line of products. The company may launch four new models at a special event scheduled for March 2017.
Apple created a splash in Sept 2015 when it undraped its 1st big tablet: a device known at the time only as the iPad Pro and equipped with a blockbuster 12.9-inch screen, quad speakers and a ultra-fast processor chip. The following March a smaller and frankly better 9.7-inch version of the iPad Pro came out, creating mild naming complications (we now call them the iPad Pro 12.9 and iPad Pro 9.7 respectively) and kindling a degree of regret in the hearts of early adopters.
Currently most are looking ahead to the new specifications design for the iPad Pro2.
Specs we might see on the next iPad
Up to four new models
A variety of sizes including 7.9-inch (diagonal), 12.9-inch and a 10.5-inch or 10.9-inch
New, magnetic Apple Pencil
A10X processor
Smart connector
Four speakers
12-megapixel iSight camera with True Tone Flash
Significantly thinner bezel
True Tone displays
5mm headphone jack
Lower-priced ($299) entry-level model
Wireless charger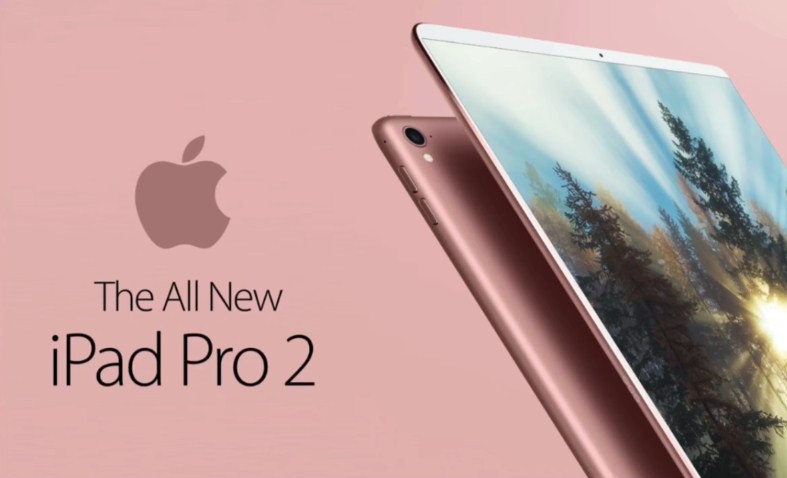 Analyst predictions new Apple announcements in last week of March, with predictions that the iPad Pro 2 will have an A10X processor, up to 6 GB of RAM and a MacBook Pro-style 'Touch Bar' feature, and previously with rumor about a possible iPad Pro 2 delay, and a stunning concept video showing the iPad Pro with a 10.5 inch screen, a dual-lens camera and a new 'wine' color option.
Design changes we can expect in iPad Pro 2?
Let's talk next about the iPad Pro 2's design.
Folding iPad
The prediction, reported by Apple Must, cites recent patent activity that shows Apple is exploring the idea of a fold-able glasses, and extrapolates this concept to the tablet sphere (where, because of the larger form factor of the devices, a folding design probably makes more sense).
Bezel-free screen
Macotakara, a Japanese-language Apple site, predicts that the iPad Pro 2 will have a largely bezel-free screen and no Home button, citing trusted sources.
The bezel (the non-screen area around the edge of the screen on an iPad, which you hold while using the device) will apparently be removed from the bottom of the iPad Pro, meaning the Home button will and will have to be integrated into the screen itself. Oddly, the site predicts that the bezel will remain at the top of the iPad Pro 2, and will continue to house the front-facing FaceTime camera.
'Touch Bar' menu bar
An increasingly widespread rumor proposes that new line of I Products will feature a function area, somewhat like the Touch Bar introduced in MacBook Pro last year. Now the rumor has mutated , apparently iPad Pro 2 is going to get a Touch Bar function area too!
iPad Pro/iPad Plus rumor: conclusion
We're still not convinced that a bigger iPad is on its way, but you can never say never. After all, Steve Jobs once said that a smaller iPad would be dead on arrival, but then Apple launched the iPad mini and it flew off the shelves.Despite all our doubts, however, we have to admit that if anyone has the market clout and cultural influence to push a new product category like this, it's Apple.