Information has always been a vital asset in the age of information. The beauty of it doesn't lies in its vastness but in its availability. The digital ecosystem really worked wonders here.
From the images on our smartphones to TV series streamed at Netflix, everything is stored on the cloud, and almost everyone today is interacting with these digital assets.
Wondering What is a digital asset?
A lot of people make the mistake of using the terms 'digital assets' and 'brand assets' interchangeably, however, they are not the same. Content that's stored digitally is referred as a "Digital Asset" and this definition is always expanding, with the constantly emerging new formats. If you're wondering what are branding assets, they are the visual and non-visual elements that contribute to a company's brand identity alone. Anything that provides value to the user, or company and is uploaded online can be categorized as 
Documents
Images
Videos
GIFs
PDF files
Presentations
Audio files
Slide decks
Spreadsheets
HTML
Graphics and more.
What is a Digital Asset Management tool?
Digital Asset Management system is the managed process of storing digital assets, with controlled access and rights to use. The reliance on Meta-data added as description to every asset, helps the users locate and use it with no time wasted. These meta descriptions act as online keywords used by SERPs for ranking results. One can also extract useful information about the asset such as file size, creation date, type and more, so that the user can reuse these assets, whenever required.
What does Digital Asset Management do?
Cloud storage is often recognized as the pinnacle of successful organizations. The creative marketing teams have laid their eyes strongly on storing files, and the cloud isn't enough.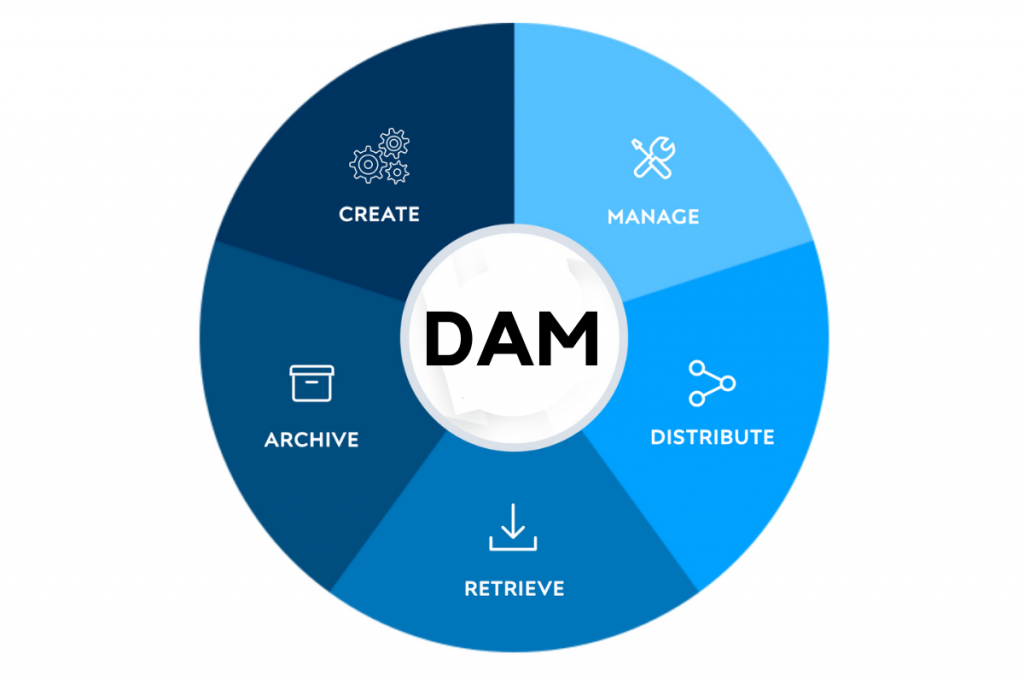 Now is the time for your team to rely on high-quality digital assets to save time and deliver competitive benefits. If in case, you're still relying on cloud storage, the systems are sure to bring down your pace. Digital Asset Management solutions offer a more agile way to save, organize and use digital assets. The key is to maximize ROI with ready-to-market assets.
‍DAM vs SharePoint vs Google Drive: Problems With Cloud Storage
Having clumsy storage solutions and no asset organization may create asset redundancies. This also leads to reducing your time for final submissions. This is where a managed DAM system can help streamline digital asset management procedures across all the departments.
The in-house marketers are stretched in all the possible directions such as producing publications, uploading online, launching digital campaigns, keeping analytics reports, and re-using digital assets.
The last thing you need is repeated requests for digital assets. The current popular options like SharePoint or Google Drive are driving the teams crazy.
What if your CEO wants images for the pitch deck and you being a manager aren't able to find the updated brand logo!
What if your PR team needs images and videos to share with the press, and the only person that they rely on is YOU!
There's a huge chance of using poor-quality, outdated, or unapproved assets that are surely going to damage your brand image. With remote work being a new reality, the digital assets are only going to multiply – and which is you need an effective way to manage brand assets.
Digital Asset Management Vs. Google Drive
DAM is a More Visually Inspiring Platform
Google Drive hasn't turned out to be a visually appealing platform, especially for marketers and designers. DAM, on the other hand, is a feast for the eyes as it is built by creatives, for creatives. You shouldn't click through every asset to view it and just with the visual layout of DAM systems, one should be able to take a look at the entire inventory in one go!
DAM is More Secured platform
Now is the time to collaborate with internal and external outsourcing partners with a well-managed DAM system. Giving access to certain folders can help you connect and protect your assets. The DAM tool is operation in countries where Google Drive has been banned as well.
DAM is Easy-to-Access Solution
You no longer have to rely on the guesswork of how Bonnie organized her asset folders, especially when you have a quick client call for that project. Even if she hasn't shared the asset path, you can easily search with Meta tags and descriptions.
DAM is Interactive
Google Drive is an effective system to manage digital assets, but the user has to share, edit and take approvals on the uploaded assets, which makes it a time-intensive process. With DAM software, one can easily upload images, videos, edit them, create gifs or watermarks, without the need to upload them again. There are integrations available with Microsoft 365, Adobe Creative Cloud, and Slack.
This saves you from wading through the endless graveyard of emails to locate approvals and an updated batch of images.
Better Chances to get Answers on Support Ticket with DAM
Seasia's customers have always favored us #1 for post-sales services, maintenance, and customer Satisfaction. We have a team well-equipped to answer all your queries via phone or email.
We don't sell and ghost you!
With DAM solution, you need back-end support of the development team, continuous services by the customer service team, and a brand that is committed to making you successful. This is the time to get a refresher on the best ways to use Seasia DAM solutions. We'd be happy to put you through 15 minutes Teams call to discuss the quote and strategy that works best for you!
Digital Asset Management Vs. SharePoint
SharePoint is designed as a document-focused system, especially for communication and collaboration among departments. Though the team members can easily share media files within SharePoint, however, DAM is a broader tool that helps users perform other functions.
A huge drawback is that SharePoint offers shared path access only to those included in the system with access.
| | |
| --- | --- |
| When does your Organisation need DAM? | When do you need SharePoint? |
| Increasing number of visual assets | Often use digital assets in other applications, such as Adobe InDesign, Powerpoint and social media. |
| Restrict the access to use files | Need to pull out transcode videos and keyframes. |
| Teams frequently share digital assets | Require a shared workspace where all the team members can collaborate and communicate. |
| Team members require different workflows and access rights | The need to keep track of tasks and projects in real-time |
| Require one single system to store and organize files | Stay updated with Team's schedule on group calendar |
Capabilities of Digital Asset Management Software
With growing interest from clients to improve workflows is driving huge investments in DAM tools and software. This muddled market has the potential to increase competition, thus leaving inescapable pressure on DAM solution providers.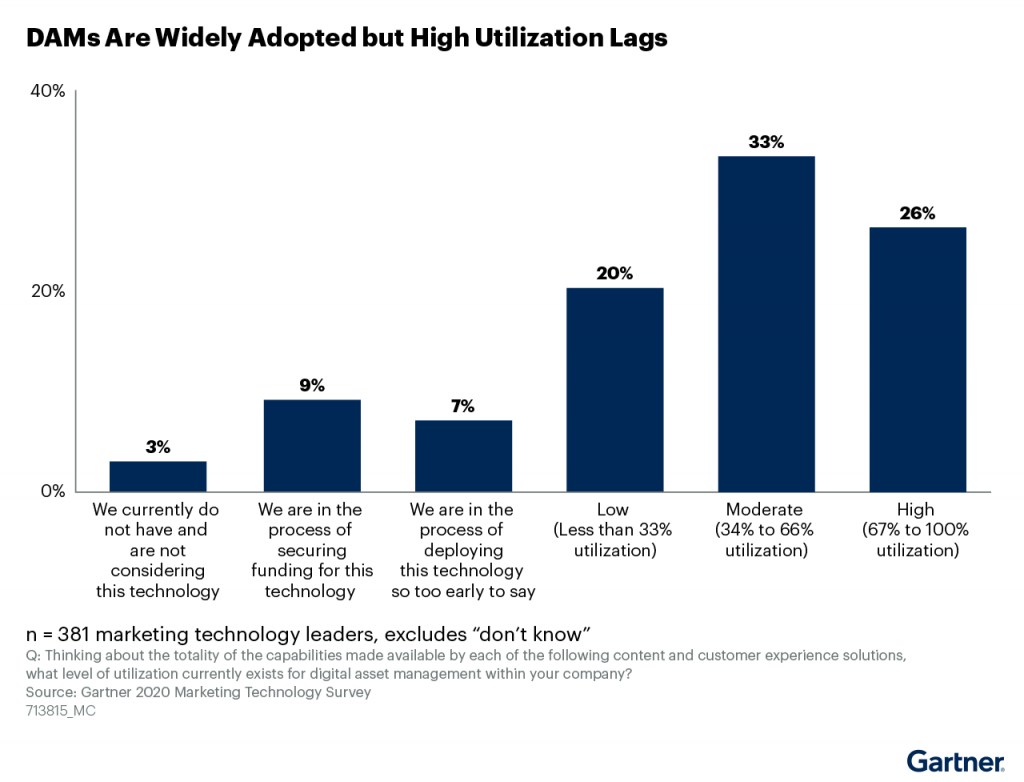 Major emerging drivers of DAM capabilities:
More Software Integrations
Increasing importance of integrated digital rights and licensing management (DRM)
AI data tagging included in workflows
Opportunities in Content management development
Driving DAM adoption among teams has been a never-ending marathon, as the manual nature of including meta-tags and governance requires constant training. The growing content requirements by multichannel marketers and the need to reuse it have made data-tagging even more important than ever. DAM vendors continue to incorporate effective data taxonomies along with essential cloud AI services such as Azure computer vision, Imagga, Clarifai, and more. There are integrations available with Enterprise Digital Asset Management Software for automated descriptive image tagging which recognizes highlighting colors, smart cropping, objects, facial recognition, audio transcription and scene composition.
Final Words!
DAM or Google Drive or SharePoint – the organization has to select team's top priorities and then pick the best-suited solution. SharePoint goes well for project-based management where you need to have close-knit communication and set a timeline. Given that you have to keep a timely track of a huge number of assets and organize plenty of files, Digital Management Software will be the answer.