Apple just released the mysteriously named iOS 11.2.5 update for iPhone, iPad and iPod touch to both developers and public beta testers. IOS 11.2.2 was the previous release by Apple and the company gave no reason for breaking the sequential numbering for the very first time in the iOS history. However, you don't need to be very much excited about this update as wide ranges of problem are currently being reported.
So should you update? Here is everything you need to know about.
Is there something special in iOS 11.2.5?
In spite of its odd numbering, it is just like other standard iOS 11 release, which is compatible with iPad mini 2 or later, iPhone 5S or later and sixth generation iPod or later.
Apple will automatically prompt the notification on your handset for the update of iOS 11.2.5. But, in case that's not happening, you can trigger the update yourself by heading to Settings>General>Software update. Apple iOS beta testers will need to unroll their device for the update to show up; particularly if you are running the major new iOS 11.3 beta.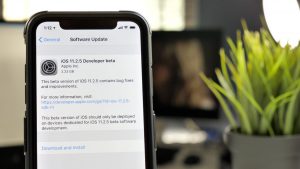 iOS update changes in size (diverse features or fixes apply to various devices) however iOS 11.2.5 is bigger than your standard 'minor point' update - circa 50-100MB - tipping the scales at up to 178MB.
Note: If you are running iOS 10 (or even iOS 9), at that point iOS 11.2.5 will roll up the substantial iOS 11 updates into a solitary major upgrade making it tip the scales at a few gigabytes.
No JailBreaker
Truly, loyal jailbreakers should stay away from this one. In spite of Google releasing iOS 11.2.2 exploit details, iOS 11.2.5 is different and there's no jailbreak as of now accessible for it.
With respect to the underlying iOS 11.2.5 stability reports, there is a great as well as a bad news for the users. The great news is iOS 11.2.5 doesn't right now have any overwhelming issue influencing a large number of users. The bad news that upgraders are revealing is that it has a surprisingly wide range of more confined ones.
These incorporate lock screen issues, inside and out bricking of gadgets, ringtone errors, performance drops, Apple Watch pairing issues, CarPlay issues with Ford and Skoda and degraded Wi-Fi. Definitely, the huge battery life drops revealed as far back as iOS 11 initially launched in September are showing a small sign of abating either.
So What Do You Get?
Although iOS 11.2.5 contains little to make you excited and update (it isn't necessary like in case of iOS 11.2.2), it breaks the box for minor point releases by having something more than just the bug fixes. Apple's release note says: "iOS 11.2.5 incorporates support for HomePod and acquaints the capacity for Siri to read the news (UK, Australia and US only). And additionally incorporates bug fixes and improvements."
Both these features are clear as crystal. HomePod pre-orders start January 26th with a discharge on February ninth so support was required and Siri's new reading is activated if you ask some information about news of the day by means of a hands-free technique like stating "Hello Siri". This uses Podcast news and you can browse any semblance of NPR, Fox News, CNN and Washington Post and can be tweaked if you want to get some information about games, music news or business.
Not said in the notes, but worth mentioning is iOS 11.2.5 brings another UI for sound controls in the music widget. This shows all the playback sources exclusively instead of amalgamating them and makes it easy to flip between sources. There is also Voiceover accessibility support with travel destination and AirPod battery levels now ready to be perused out.
Concerning security, Apple's page records fixes for vulnerabilities in Bluetooth, WebKit, and audio playback and there are bug fixes for the Phone application (incomplete call lists), Messages (muddled conversations), Mail, and CarPlay (freezing when hopping different tracks).
Last Words
For the individuals who hold fire, you shouldn't need to wait for the following update. That will be iOS 11.3 and it is the huge one. It brings the detailed battery diagnostics and clarity clients have demanded ever since the shutdown debacle started well over a year prior.
While long later, iOS 11.3 will also give clients control over how their iPhones and iPads work as their batteries corrupt and forthright warnings when the battery ought to be replaced.