Apple's Vision Pro might just be the company's most revolutionary gift to the world after the iPhone!
With its state-of-the-art impeccable design, enormous room for innovation it offers, and a multitude of possibilities, Vision Pro has successfully established itself as a gadget everybody wants within a few months of its launch.
And well, here's the real deal.
While Apple is getting the hardware ready ahead of the public launch early next year, now is a great time to become an early bird and explore the "next level" possibilities in Apple Vision Pro app development.
Let's get started!
But what's so special about Apple Vision Pro?
Apple's first spatial computer, Vision Pro seamlessly combines the digital and the physical worlds. The infinite canvas allows you to access apps conveniently beyond the boundaries of a small screen through a three-dimensional user interface. And well… that's not even the best thing about it.
You can control the interface using your eyes, hands, and voice! The visionOS makes it possible for you to interact with digital content in a way that makes it feel like it is there, in your physical space.
Defining a new standard for new, extraordinary experiences, Apple's Vision Pro acts as an infinite canvas for apps, offers engaging entertainment experiences in an immersive environment, and brings your memories to life! What's more? The all-new FaceTime reflects everyone on the call in life-size tiles.
Keeps getting better, right?
An Extension of the Apple Ecosystem…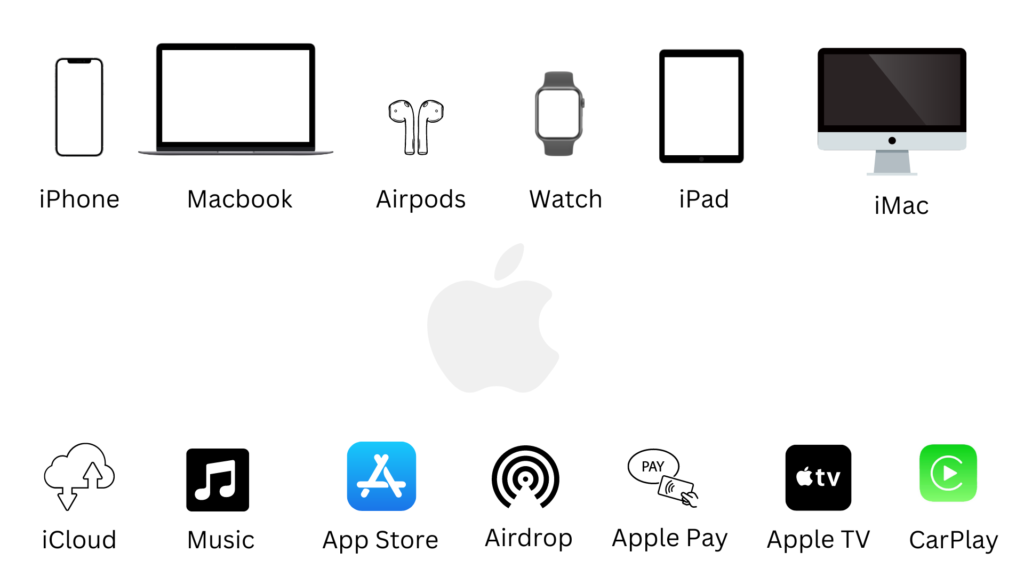 Now that we've given you an overview of Apple's Vision Pro, we must also remind you that the biggest advantage of the cool new gadget is not the hardware, but how it acts as an extension of the massive Apple ecosystem.
Do you understand what that means as a business? All the apps you designed and developed for iPhones can seamlessly be converted into visionOS apps!
But how? Hire a Mobile app developer!
But that doesn't mean you need to stick to the limitations of a fixed-size screen. You can let your creativity flow by developing AR and VR powered apps for Vision Pro.
Apps for Vision Pro – A New Dimension to Application Development Services
Vision Pro introduces a brand-new App Store with state-of-the-art apps designed for visionOS, along with your favorite iPad and iPhone apps. The device lets users experience the magic of 'Environments' as they beautifully transform your surroundings, allow apps to transcend the confines of your room, and provide the ideal environment to concentrate.
Filling the space around you and breaking the constraints of traditional display, apps take on a new dimension in visionOS. They can be placed anywhere, resized to perfection, react to ambient light, and even cast shadows.
And well, you can ensure your customers experience this new frontier of digital interaction with your brand by developing apps for Vision Pro.
What it Means for Apple Developers
Apple's global community of developers already has access to a new class of spatial computing apps that enable them to create new, extraordinary experiences by bringing digital content and the physical world together.
The new software development kit is helping developers design apps for various categories, and well, iOS developers have an edge too. If you are already familiar with foundational frameworks, such as Xcode, TestFlight, SwiftUI, and the like, the transition to creating apps for Vision Pro would be rather seamless.
Our skilled team of Ios app development experts is familiar with Xcode and Reality Composer Pro, and that allows us to prepare and preview 3D models, animations and other media to ensure they look great on the device.
How we design apps for vision Pro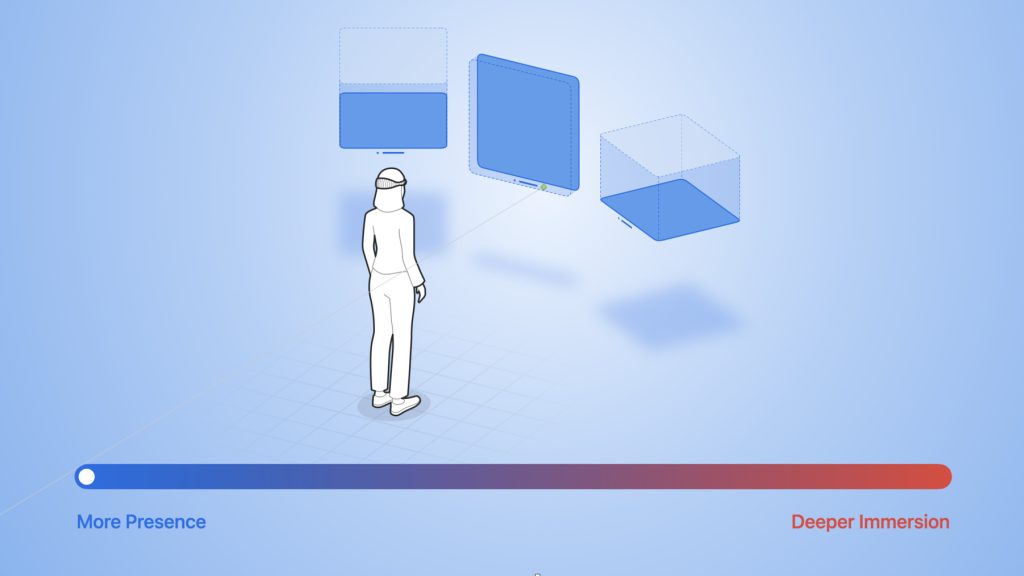 When designing and developing apps for the Apple VR headset, it is important that the developers are familiar with spatial design principles. Our developers harness the new spatial design principles to create immersive experiences for your users.
These include:
Windows
Windows in the Vision Pro are dynamic components that may have different sizes depending upon the app context. Not just that, we can also design multiple windows to suit different contexts within one app, if required.
Human-centered Design
Vision Pro requires developers to adopt a human-centered approach to app design. They need to consider what a person can see, how they might need to move, as well as ergonomically relevant placement of content to create a seamlessly comfortable and intuitive experience for the user.
Dimension
Vision Pro enhances apps with its ability to use depth. Different combinations of light, shadow, and scale can be used to create unique and fresh user experiences.
Immersion
Since experiences on Vision Pro make users feel like everything is happening around them, it is important to create them in a way that supports smooth transitions.
Authenticity
Vision Pro is new, and that leaves enough room for the developers to experiment and create authentic experiences by leveraging unique capabilities of the headset.
Specific Applications
Our Vision Pro app developers have carefully analyzed applications like Photos, Safari, and more that are already providing a clear picture of these principles.
Planning the App – The Heart of the Matter
The first step in planning an app for the Vision Pro is familiarizing yourself with relevant tools and technologies. As the next step, our developers explore all the possibilities within the app while also keeping an eye on the newer capabilities of the device, these include creating familiar windows, extending the interfaces and increasing the level of immersion.
We begin the development process with Xcode, taking it forward with SwiftUI. Some of the tips shared by Apple for the developers include:
Adding a new dimension to the interface
Devising straightforward interactions
Creating next-level audio and video
Embracing inclusion
Prioritizing privacy
Testing and tuning the app
Some final steps include promoting sharing and collaboration by connecting people using SharePlay.
Not sure about the best foot forward? Talk to us!
Vision Pro – Leaving No Industries Untouched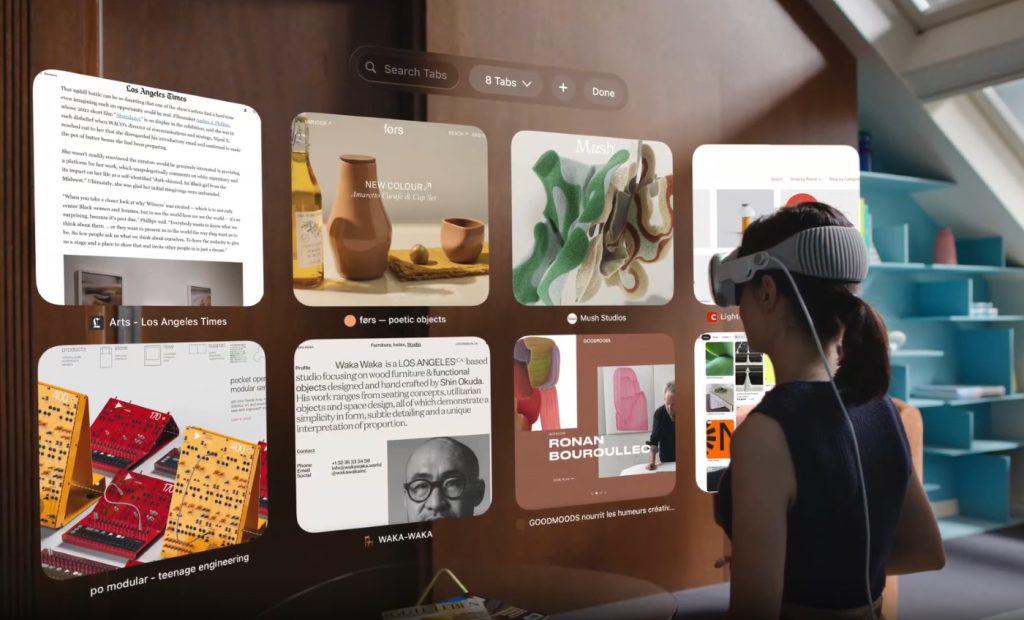 Even though Apple is yet to release the device physically and the number of apps available for the Vision Pro is very limited, various domain experts across the world are brainstorming ideas to leverage the infinite potential in spatial computing.
Let us take a closer look at how Apple Vision Pro is likely to redefine how we operate across different industries:
Healthcare
Vision Pro may facilitate procedures such as virtual training, remote surgeries, and patient monitoring, ultimately resulting in more effective treatments.
Education
Since Vision Pro supports immersive experiences, educators will be able to provide their students with immersive learning environments. Teaching using 3D models may also help improve understanding and retention among students.
Retail
The retail industry will benefit from being able to offer their customers an immersive shopping experience from the comfort of their home, which can be a gamechanger in terms of increased sales with the right app for Vision Pro.
Manufacturing & Engineering
Imagine being able to test in a virtual environment and saving time and resources. Vision Pro makes it a possibility by simulating a particular setting.
Gaming & Entertainment
Entertainment and gaming are two industries that are expected to benefit from this advancement in technology enormously. Gesture controls combined with immersive experiences, gaming on Apple Vision Pro is going to be a complete gamechanger.
Real Estate & Tourism
Imagine being able to take a virtual, immersive tour of properties and places you want to visit from the comfort of your home! Vision Pro makes it possible.
Become a Part of a League of Early Adopters
While Apple has announced a list of apps that are going to be readily available on the Vision Pro, industry leaders like Disney and Microsoft too are working hard on being some of the early adopters of this incredible technology.
Do you want to be the first among your competitors? Now is the time.
Join hands with a top mobile app development company like Seasia to create a visionOS app for your business and register your name among the best.
FAQs
Can you code on Vision Pro?
Since Vision Pro can be used to extend your Mac desktop into virtual space, you can view your Xcode development environment and work simultaneously on the device.
What is Apple Vision Pro used for?
Apple Vision Pro is relatively new. It is too soon to specify its primary use cases, however, some of the many ways the device is expected to be used in include immersive gaming, enhanced remote collaboration, simulations in industries like healthcare and aviation, virtual tours, and collective educational experiences.
Can Vision Pro run iOS apps?
A lot of iOS apps are expected to be compatible with and run seamlessly on Apple Vision Pro.
How much will Vision Pro cost?
The cost of Vision Pro is expected to be around $3,499.