We often land in situations where we need solutions to health problems, but we can't seem to find the time to see a doctor.
Well, you no longer need to delay seeing a medical expert just because you don't have the time or a doctor near you – introducing telemedicine apps.
Thanks to telemedicine apps, receiving remote healthcare services have become easier than ever. Also, the global telemedicine market size too is expected to grow to USD 396.76 billion in 2027.
What are Telemedicine Apps?
The closest definition of a telemedicine app would be an online healthcare app that allows you to discuss your healthcare concerns with a medical practitioner using your phone alone. People can not only obtain the care they need sooner, but they can also save money by using Telemedicine. It can even save lives, and it's swiftly proving to be an important part of patients' lives.
Telemedicine and COVID-19
It was the COVID pandemic emergency that prompted a shift from traditional in-person visits, towards the use of Telemedicine. It led to the launch of all kinds of telemedicine apps, some free and some chargeable. Since distance became a preventative measure during COVID-19, the use of technology to offer healthcare services and information sparked the healthcare mobile app development. Healthcare providers have received this merger of the existing approach of remote monitoring with new digital tools like mobile apps and linked sensors quite well. 
There's more to know:
Lesser-known Benefits of Telemedicine Apps
Let's dive deeper into how telehealth apps have become the new normal today:
Manageable Chronic Conditions
Diabetes, hypertension, and depression are all some of the most common chronic disorders. Telemedicine can assist you in managing your illness on your own. Patients are urged to take their meds, arrange frequent follow-ups, and renew their prescriptions by arranging something as easy as the shortest routine phone or video chat.
Patients have the option to inform their doctors about any changes or irregularities during these routine health examinations. This enables physicians to address any issues early on, minimizing your risk of becoming unwell by assisting you in receiving the treatment you require.
Lower the Risk of Heart Disease
In the United States, heart disease is the top cause of mortality for both men and women, killing a large number of people. Patients who are at risk for heart disease are often suggested to shift their lives in order to lower their risk of developing such conditions. Some examples are losing weight, avoiding smoking, adapting pharmacological therapies, along with nutritional diet and exercise. You may find the frequent in-person medical appointments to be time-consuming and challenging, especially if you live far away from your main care physician. You can have these frequent appointments at the comfort of your own home via Telemedicine, and your physician can monitor your progress.
Easy to Consult for Mental Health Conditions
Anxiety, sadness, and hyperactivity are all mental health conditions that may be extremely difficult to live with. You might not even want to get out of bed some days. Telemedicine allows you to speak with your doctor online so that you may discuss your symptoms and receive the treatment you require.
When you're released from the hospital post-surgery or another life-altering event, your recovery has just started. Routine visits to your primary care physician might be difficult if your disease has left you physically or cognitively disabled. Telemedicine technology has given patients access to the tools they need to continue on their path to wellness. Patients show physicians their bodily processes at regular check-ins (e.g., pedometer readings, journaling). Patients can also connect with others who are on the same path to recovery through online group therapy sessions.
How did Telemedicine Apps get a push?
Despite widespread recognition of Telemedicine's promise, widespread adoption has been stalled for years, but not for lack of effort. Prominent leaders and professionals talked and wrote extensively about the possibilities for Telemedicine to increase access while cutting expenses. A new class of telemedicine solutions is developing that uses next-gen technologies to treat common problems in everyday individuals.
Let us discuss the major factors that drive such growth:
People of all socioeconomic levels now have access to basic videoconferencing technologies and the Internet. A camera is pre-installed on almost every laptop and mobile device. A simple camera is capable of delivering high-quality video for PCs and it costs only a few dollars.
The risk of medical malpractice connected with telemedicine contacts may now be easily insured. Many insurers now cover Telemedicine as part of their standard plans or will do so if asked. This assures a competitive market, reasonable charges, and straightforward online healthcare app development procedures.
States are increasingly forcing payors to fund telemedicine consultations, and many private insurers are doing so voluntarily as a cost-cutting measure. A majority of states have enacted laws mandating payors to compensate for telemedicine consultations, and other states are in process!
Telemedicine procedures are becoming talk of the town and a dire need in 2023. Academic healthcare centers where new physicians are completing their education are also studying an obsolete sort of high-cost, highly specialized Telemedicine.
Overall, healthcare prices continue to rise, and irrespective of estimates of the CBO, many analysts believe that healthcare reform legislation would amplify rather than moderate total healthcare expenses. As a result, the financial argument for Telemedicine is becoming increasingly compelling.
It has continued to gain popularity. As reported in Q3 2022, Apple App Store had more than 40,000 mHealth apps. Let's take a look at the top 10 best online medicine apps that are sharing the spotlight.
List of Top 10 Telemedicine Apps
MD Live
Lemonaid
LiveHealth
AmWell
TalkSpace
PlushCare
Maple
Doctor on Demand
HealthTap
TelaDoc
Now, here is a glance into how each of these apps compares against the others.
1. MD LIVE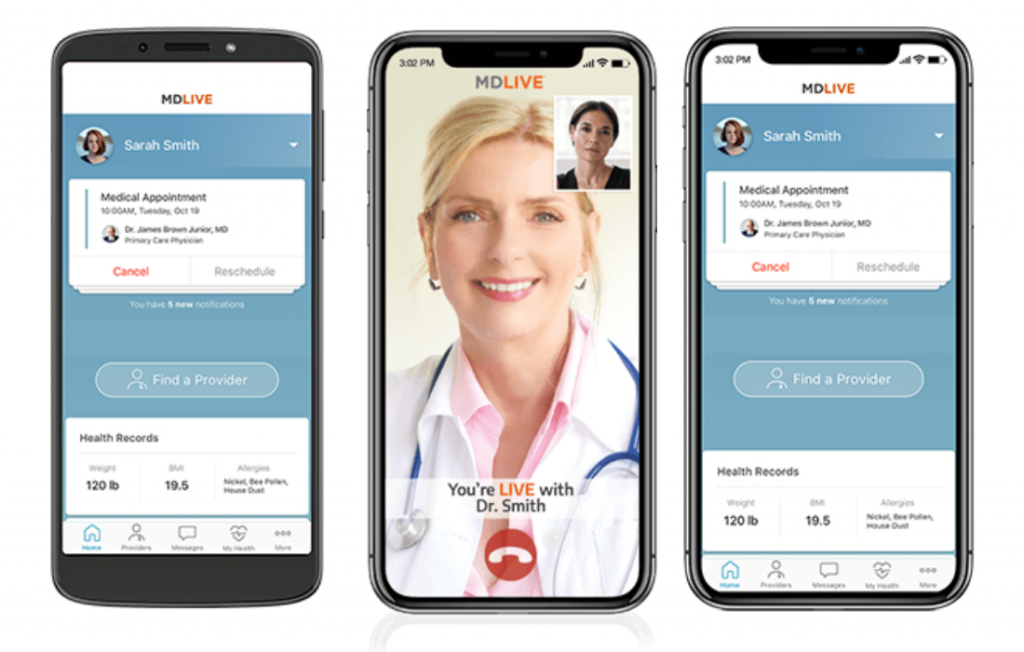 MDLive has continued to deliver cost-effective, seamless, and secure medical consultations. Patients can use a telemedicine mobile app to contact physicians, counselors, psychiatrists, or dermatologists for consultations via this platform.
MDLive is an excellent platform for clinicians to add telehealth practitioners to their teams. It also offers them telehealth-related training. Furthermore, a cloud-based telehealth platform assists medical institutions in enabling teleconsultations to reduce patient wait times and reduce healthcare expenditures.
Google Play: 3.4 & App Store: 4.6
2. Lemonaid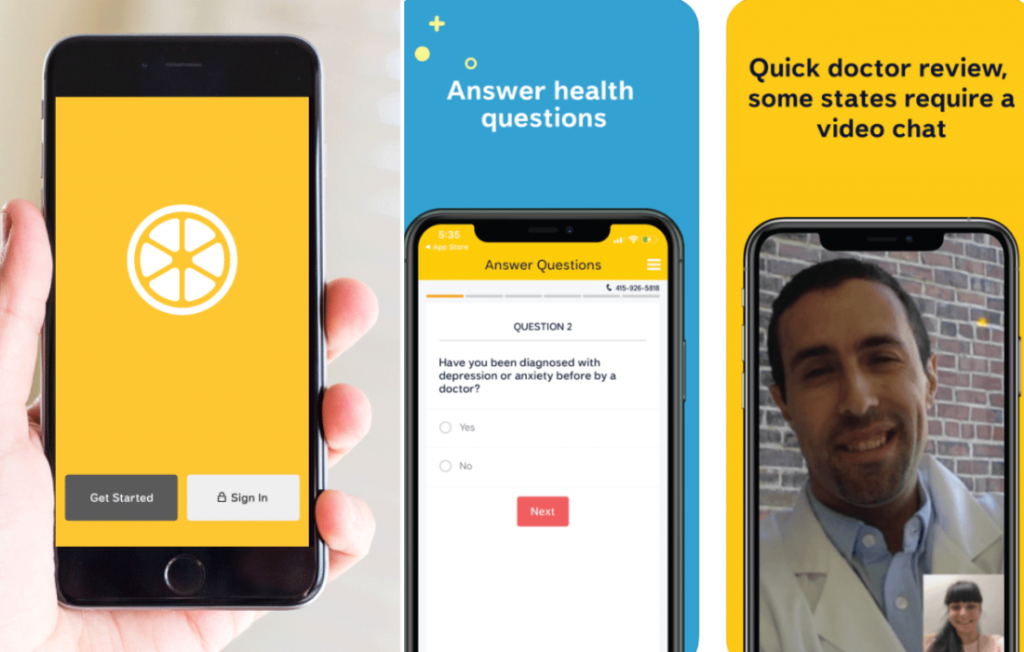 Lemonaid Health has swiftly established itself as one of the most responsive telemedicine app systems in the market. It offers healthcare and support for a variety of illnesses, including birth control, sinus, cholesterol, addiction treatment, acid reflux, and lab tests. Patients can book an online doctor appointment for a predetermined fee the same day after filing a complaint.
Prescriptions are also delivered to local pharmacies with which they have partnered. You'll be able to pick up your medications with ease this way.
Google Play: 4.6 & App Store: 4.9
3. LiveHealth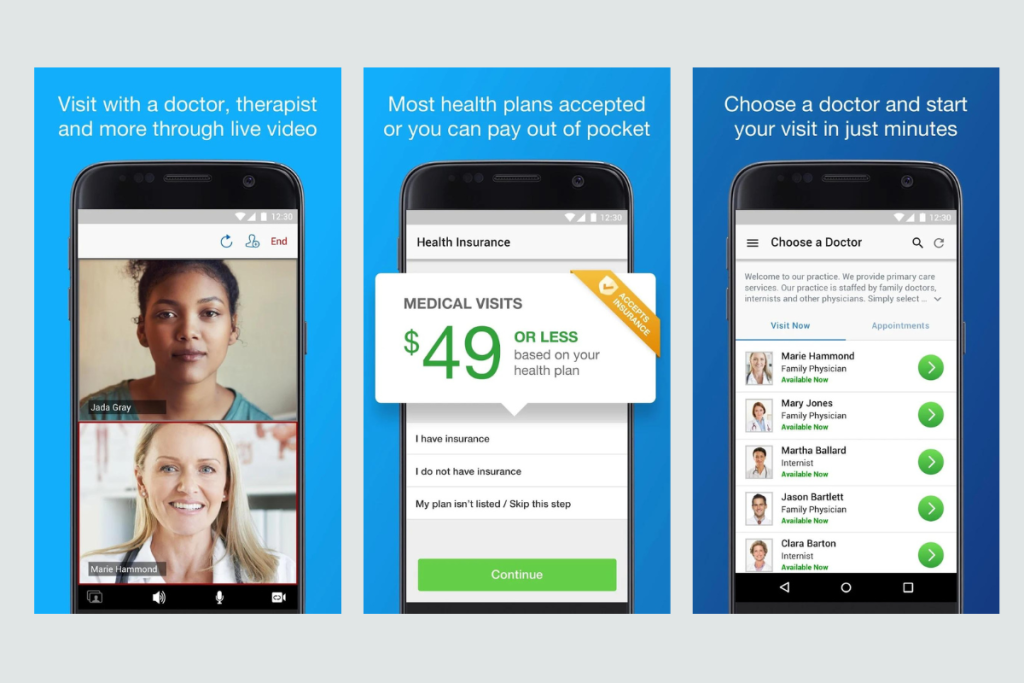 LiveHealth provides you with access to certified doctors whenever you require their services. Simply register, log in, and select the most suitable doctor for your specific needs. There's no need to schedule an appointment, as LiveHealth offers round-the-clock availability of doctors, promising a private and secure video connection with a doctor in under 10 minutes.
The app's doctors are equipped to handle a wide range of conditions, including the flu, bronchitis, allergies, skin infections, and many more. Additionally, LiveHealth features licensed therapists, lactation consultants, registered dietitians, and various other healthcare specialists.
Google Play: 4.5 & App Store: 4.9
4. Amwell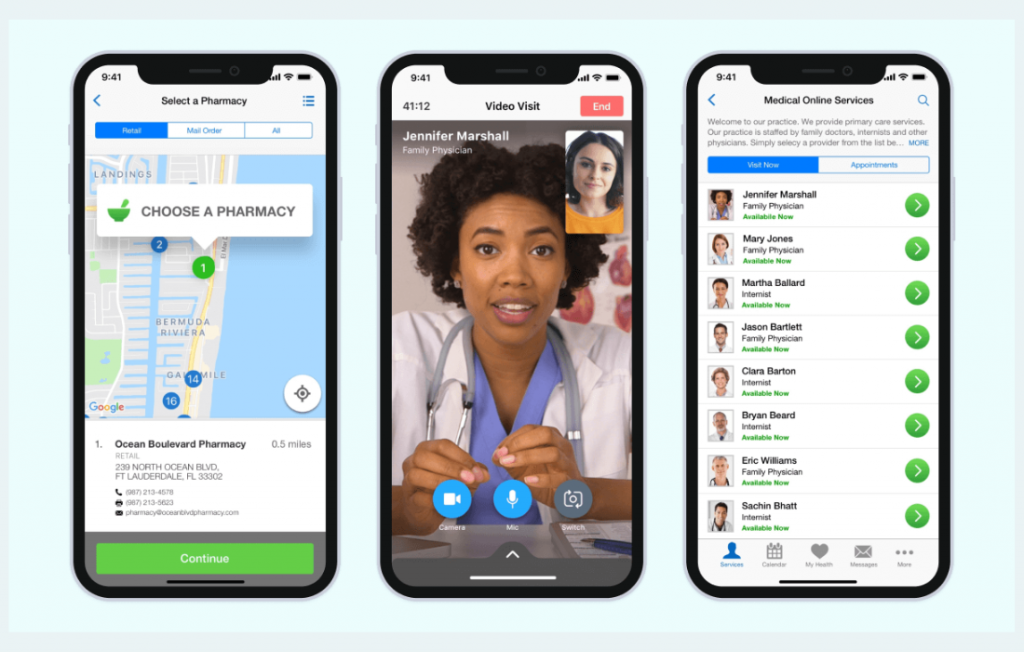 AmWell has been a significant partner in delivering the best HIPAA-compliant and secure telemedicine services, which were long thought to be a pipe dream. The AmWell app offers a fixed-cost, 24/7 medical consultation for urgent care, therapy, psychiatry, and other illnesses. The AmWell app for providers gives them additional ways to make extra money based on their schedule and video calling preferences.

AmWell has established itself as a telehealth leader by providing a wide range of options for both clinicians and patients. Patients can choose from a variety of doctors based on their availability. All patient-provider talks and prescriptions are recorded in the patient's profile and are easily accessible. Joining an online care group or practicing privately, both the options are available here.
Google Play: 4.2 & App Store: 4.9
5. TalkSpace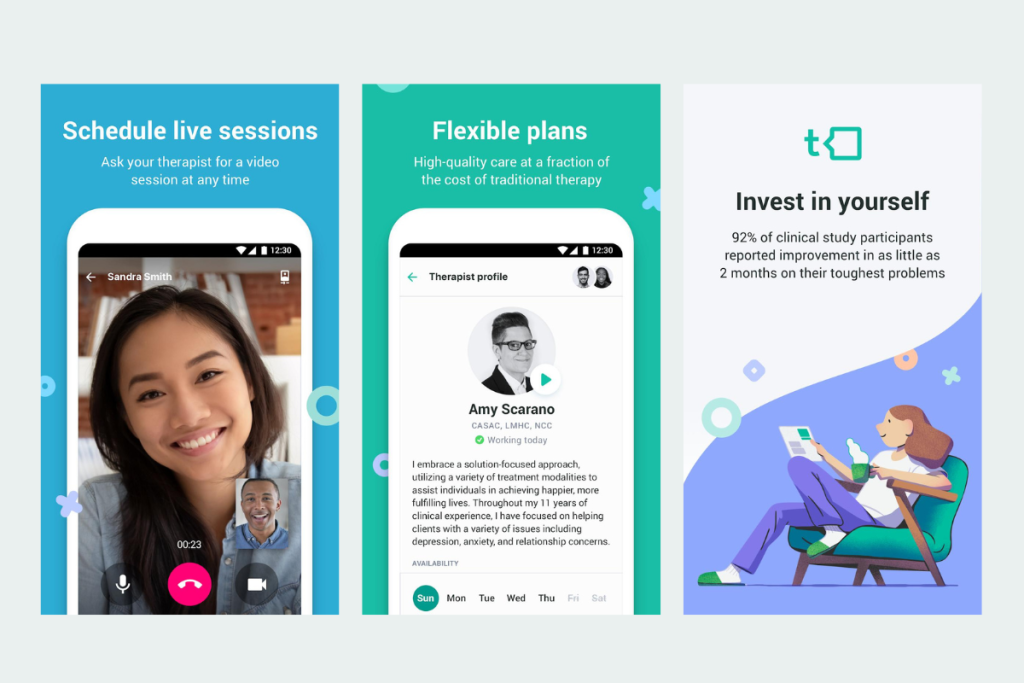 Talkspace offers a convenient, cost-effective, and efficient solution for enhancing your mental health.
This subscription-based service allows you to exchange unlimited text, audio, image, or video messages with your therapist. You can expect a response at least once a day, five days a week, although replies may be delayed if you send messages during nighttime hours. While you can communicate 24/7, immediate responses are not guaranteed around the clock. Their Premium and Ultimate plans offer the option to include one or four live video sessions per month, respectively.
Monthly plans range from $260 to $396 with no contracts required. Psychiatry services can be added at a cost of $199 for the initial assessment and $125 for subsequent follow-up appointments.
Google Play: 2.6 & App Store: 4.7
6. PlushCare
PlushCare, which has a 4.9 Yelp rating, boasts top-notch online consultations from doctors who have been part of the top 50 medical schools. Patients have to pay fee per visit using this online and mobile app, and there are no hidden costs other than this.
General medical consultations, medication refills, and lab tests are amongst their services. There is a straightforward online software application development procedure for doctors to join this clinic.
Google Play: 4.0 & App Store: 4.9
7. Maple: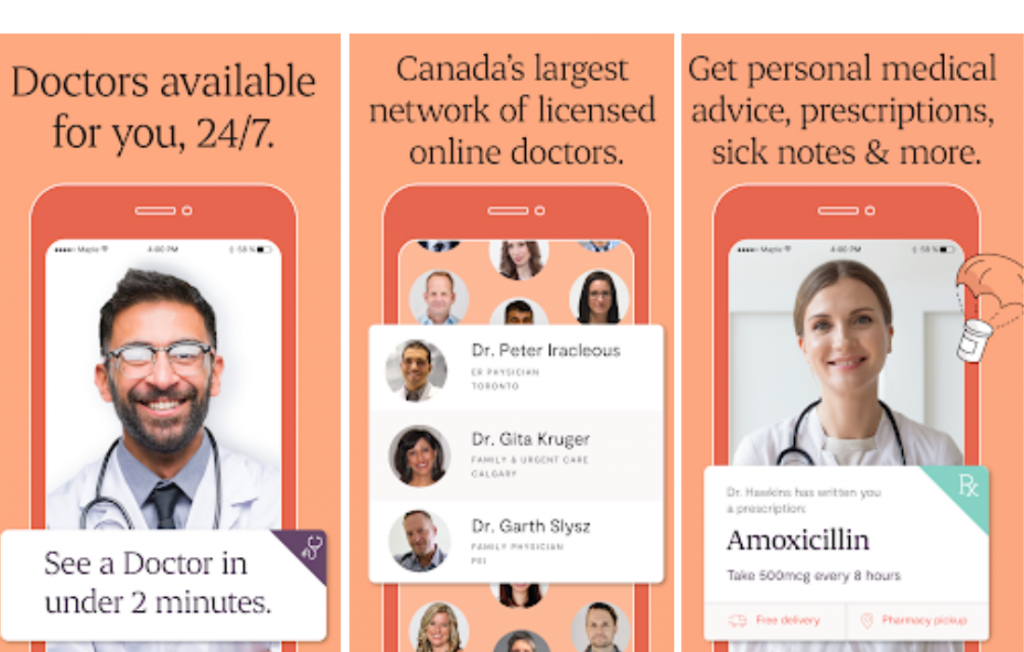 The Canadian on-demand telemedicine business has set a new standard with Maple. They were successful in meeting their aim of lowering wait times, which is a key concern in Canadian healthcare.
Patients can pay for medical services on a per-consultation basis or as part of a monthly subscription.
They provide medication delivery to your house as well as a comprehensive family healthcare package.
Maple's attitude of putting people first has helped to raise awareness of Telemedicine and earned its distinctions.
Google Play: 4.4 & App Store: 4.8
8. Doctor On Demand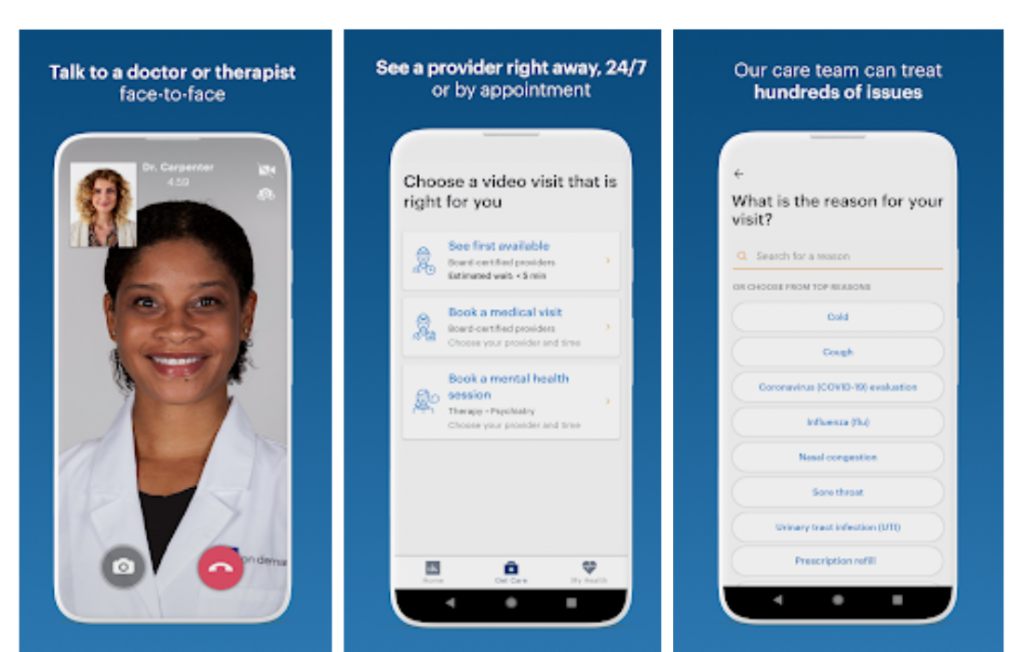 Doctor on Demand is a live access platform that allows users to contact doctors, psychiatrists, psychologists, therapists, and medical professionals from a variety of professions 24 hours a day, seven days a week. They provide comprehensive virtual treatment via cross-platform access that is tailored to the patient's specific needs.
Doctor on Demand is a service that connects consumers with medical specialists in minutes from the comfort of their own homes. It also includes a platform for providing emotional support during and after therapy. Patients can select their chosen doctor or treatment option from a list of rated practitioners.
Google Play: 4.7 & App Store: 4.8
9. HealthTap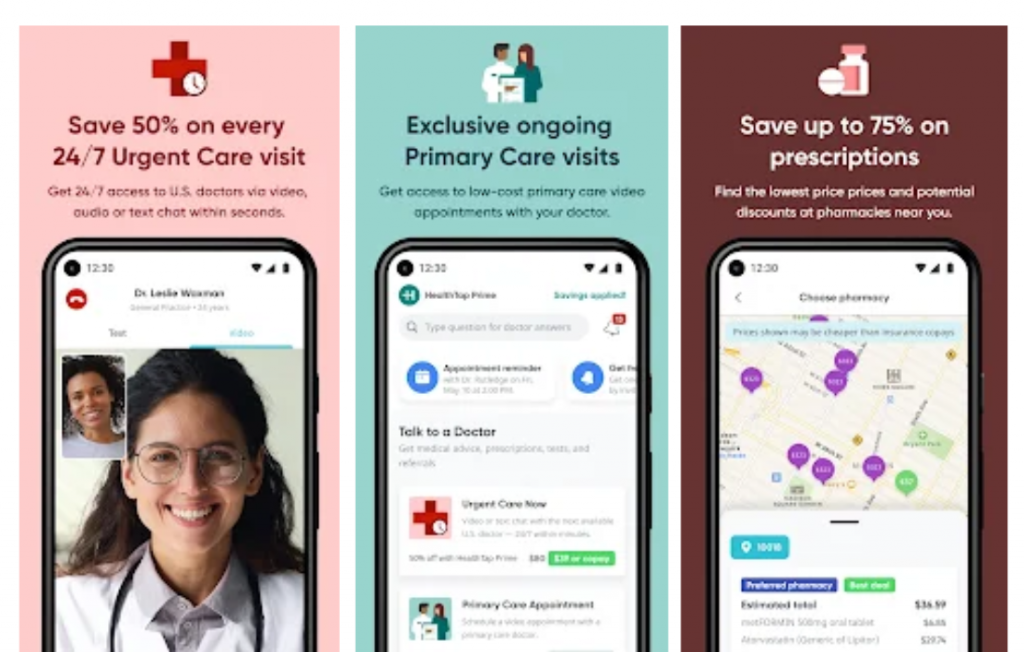 HealthTap promises to provide a unique healthcare experience by offering instant access to over a million top doctors by message, voice call, or video call 24*7. Any PC, smartphone, tablet, or Android Wear device can use it.
They also assist enterprises and workplaces in providing low-cost healthcare services and assistance. HealthTap is contributing to improving healthcare through seamless telemedicine apps by utilizing cutting-edge technologies.
Doctors may use this software to develop a solid professional reputation and income by employing 'Virtual Practice Hours.'
Google Play: 4.4 & App Store: 4.6
10. TelaDoc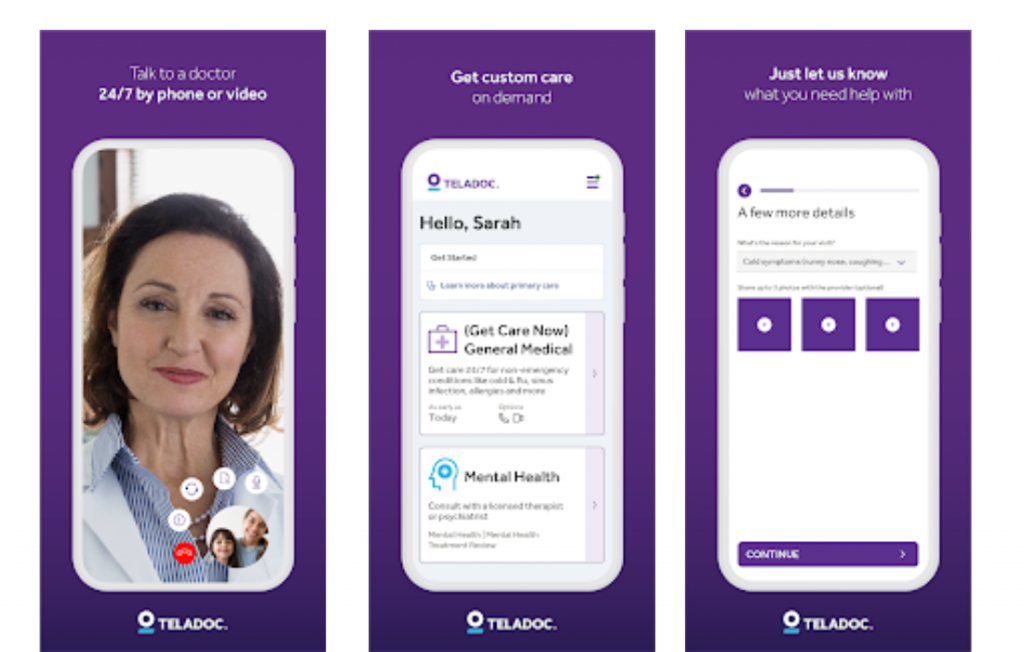 Teladoc enables you to consult with a diverse range of medical experts through your current healthcare plan, regardless of your medical concern or the specialty you require. Simply request a specialist and communicate with your doctor via video or audio chat. They can offer expert medical guidance, and if necessary, issue prescriptions.
Google Play: 4.7 & App Store: 4.8
Who should & shouldn't use online medical apps?
Telemedicine apps can be beneficial for many; however, they may not be suitable for everyone.
Who should use telemedicine apps:
Individuals with non-emergency medical issues, such as mild infections, allergies, or colds.
Those who need routine follow-up appointments or prescription refills.
Patients who require management of chronic conditions, such as diabetes, hypertension, or mental health disorders.
People who live in remote or rural areas with limited access to healthcare providers.
Individuals with limited mobility or transportation issues.
Those who prefer the convenience and time-saving aspects of virtual consultations.
Who shouldn't use telemedicine apps:
Individuals experiencing medical emergencies or life-threatening situations, such as severe chest pain, difficulty breathing, or severe bleeding, should seek immediate in-person medical care.
Patients with complex medical issues that require a thorough physical examination or diagnostic tests that cannot be performed remotely.
People who are not comfortable using technology or do not have a stable internet connection.
Individuals with medical conditions that require regular hands-on treatment or monitoring by healthcare professionals, such as wound care or physical therapy.

The Final Note
Telemedicine is certainly changing the way how we approach our medical practitioners. Our therapists are just one tap away. As technology continues to improve, we may soon be able to witness the full potential of online doctor services and how they can help elevate humanity.
FAQs
What app is used for telemedicine?
There are several apps used for telemedicine, such as Teladoc, Amwell, Doctor on Demand, MDLIVE, and PlushCare. The choice of app depends on your specific needs and preferences.
What telemedicine apps can I use without insurance?
Telemedicine apps that can be used without insurance include K Health, Doctor on Demand, and PlushCare.
What other apps are like K Health?
Another app similar to K Health is HealthTap.
What is the best platform for telehealth?
All the above-mentioned apps are reliable telehealth platforms.